This week's vegetable delivery could have starred in a "Dig for Victory" poster – celery, swede, cabbage, carrots, greens, potatoes and onions. Apart from a huge muddy fennel bulb, it harked back to a time when mediterranean cooking meant boiling macaroni for 20 minutes and baking it in cheese sauce.
Gale force winds and extreme laziness suggested a hot one-pan one-bowl meal for yesterday's dinner (although we eat an awful lot of meals like this, so perhaps we should count the wind out) . Cabbage suggested sausages, so we did the following;
Chopped up; an onion, a clove garlic, a big, mild red chili, a large carrot, a medium potato, 1/4 swede, 2 ribs celery, and about 1/4 bulb fennel, sweated them in the wok (biggest pan we have, and there was a LOT of food) then threw in some pork sausages. (Normally we'd brown them first for aesthetic reasons, but we didn't bother. You can see from the photo that we probably should have done.) Then we chucked in half a shredded white cabbage (1-cm ribbons) and covered the whole lot with water, adding 1tsp veg stock granules (though this probably wasn't needed). Seasoning was a bay leaf, about 1/2 tsp caraway and a few cloves. With hindsight it looks like a strange combination but it seemed to go with the way the thing was smelling at the time. It simmered away covered for a good half hour or so – we were setting the site up at the same time so I'm not sure how long really –  then we put a handful of shredded greens in for a couple of minutes before dishing up, which made it pleasingly multi-coloured. A big splodge of whole-grain mustard went on top at the table.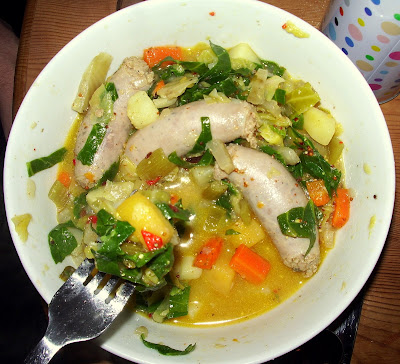 Results? Despite the unpromising ingredients list and anaemic-looking sausages, it tasted really good. The chili didn't seem to give it any heat at all, and in fact none of the individual ingredients overpowered. The whole thing cooked into a cosy, comforting mess, hearty but not too stodgy.  This was a good thing as I'd spent the day making hot cross buns, of which more later…